Lodge Bird List         Tours to Rio Azul
An elegant and charming family-run lodge located at the edge of the massive Serra do Cachimbo reserve in an ecotone between tall Amazonian rainforest and more stunted white sand "campinarana" forests. Floating down the beautiful river flanked by untouched forests as southern Amazonian endemics pop up in the treetops all around you is an unforgettable experience. Comfortable accommodations, great birding right at your doorstep, and terrific food make this a world class birding destination.
Rio Azul Jungle Lodge was opened in 2007 as a catch-and-release sport fishing lodge, but over the years they have come to focus more and more on birding and ecotourism. The birding at Rio Azul is remarkably good, with a surprising diversity of species found within a tiny radius just around the lodge itself. You need only roll out of bed and step onto the veranda of your cabin, and the Southern Amazon specialties are all around you! A good system of trails and tracks through partly disturbed riverine and transitional forests, along with patches of tall campinarana forest and more stunted dense campina-like forest on pure white sands, give us acccess to a bird list that exceeds 500 species. The beautiful Rio Azul (typically shown on maps as the São Benedito II) is a highlight, and we enjoy drifting down the river with the engine of our boat switched off, listening to the sounds of the forest and ticking off the specialties as they appear along the edges. The star bird at the Rio Azul is the bizarre Bald Parrot, endemic to the lower Madeira-Tapajós and along the southern slopes of the Serra do Cachimbo into southern Pará state. The Bald Parrot is secretive, but the Rio Azul is certainly one of the best places to try to see it in all its unfeathered-orange-headed glory.
The lodge clearing is one of the focal points for any birding visit to the Rio Azul, as the native flowering and fruiting plants in the garden attract a diversity of tanagers and hummingbirds. The lodge maintains hummingbird feeders attracting Gould's Jewelfront, Fork-tailed Woodnymph, Green-tailed Goldenthroat, White-necked Jacobin, Amethyst Woodstar, Black-throated Mango, Tapajos Hermit and Straight-billed Hermit. A sturdy wooden observation tower (12 metres high) right beside the lodge gets one closer to the surrounding canopy, where toucans, macaws and puffbirds spend their days. The entrance road to the lodge passes through a beautiful area of white-sand campina, which aside from its specialty bird species is also home to an interesting botanical community of flowering plants and mosses, in addition to some fascinating lichens. Open ranchland along the drive to the lodge is host to a more widespread set of birds, but we'd be remiss if we didn't mention a small population of Hyacinth Macaws that is found here, an offshoot of the larger Amazonian population found on the Serra do Cachimbo.
How to get there
Rio Azul is reached from by a 3 to 4-hour drive from the town of Alta Floresta in the north of Mato Grosso state. The drive is mostly over dirt roads and can be very bumpy. Alta Floresta is served daily by a flight from Cuiabá, the state capital, operated by Azul Brazilian Airlines with a LATAM codeshare. Azul typically flies an EMBRAER E195 on this route, and the flight takes 50-60 minutes.
Key birds and mammals
In the years since Agami Nature Tours pioneered this destination, a list exceeding 500 bird species has been recorded at the lodge and its surroundings. Key birds at Rio Azul include Bald Parrot, Gray Tinamou, Razor-billed Curassow, Zigzag Heron, White-browed Hawk, Harpy Eagle, Cryptic Forest-Falcon, Sunbittern, seven macaw species including Hyacinth and Scarlet, White-bellied Parrot, Kawall's Amazon, Tawny-bellied Screech-Owl, Crimson Topaz, Tapajos Hermit, Straight-billed Hermit, Fiery-tailed Awlbill, Black-bellied Thorntail, Gould's Jewelfront, Amethyst Woodstar, Pavonine Quetzal, Blue-cheeked Jacamar, Bronzy Jacamar, Brown-banded Puffbird, Spotted Puffbird, Collared Puffbird, Rufous-necked Puffbird, Black-girdled Barbet, Rusty-breasted Nunlet, Gould's Toucanet, Ringed Woodpecker, Red-necked Woodpecker, Natterer's Slaty-Antshrike, Yellow-browed Antbird, Bare-eyed Antbird, Rufous-faced Antbird, Chestnut-belted Gnateater, Uniform Woodcreeper, Tapajos Scythebill, Pale-bellied Mourner, Cinnamon Neopipo, Snow-capped Manakin, Plush-crested Jay, Klages's Gnatcatcher, Fulvous-crested Tanager, Dotted Tanager, Masked Tanager, White-bellied Dacnis, Short-billed Honeycreeper.
Rio Azul is home to seven species of primates, at least five of which regularly show up around the lodge itself (White-faced Spider Monkey, Red-handed Howler, Red-nosed Bearded Saki, Brown Capuchin and Azara's Night Monkey). During river trips we sometimes see Brazilian Tapir, Giant Otter and Neotropical Otter. Rarities such as Jaguar, Puma and even Short-eared Dog have all been seen here.
Accommodations
Rio Azul Jungle Lodge has nine en-suite cabins, all with air-conditioning, lovely hot showers in the spacious bathroom, and comfortable king-size beds in the double rooms. Each cabin has its own private secondary outdoor shower enclosure. The meals are prepared by the owner, and her cooking is extraordinary, turning even the simplest of dishes into delicious memories. We are anxiously awaiting the arrival of a Recipes of the Rio Azul cookbook…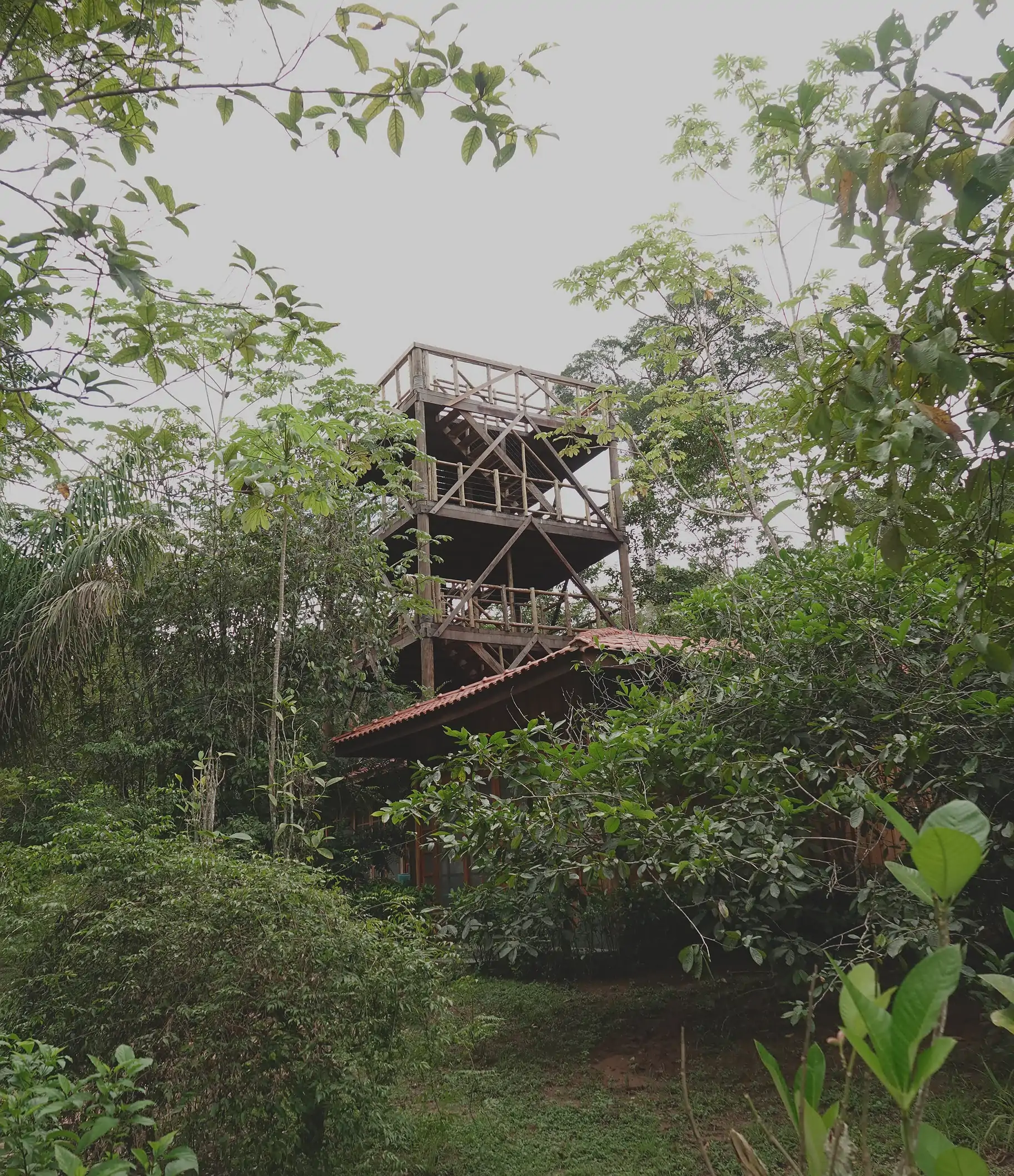 Canopy Tower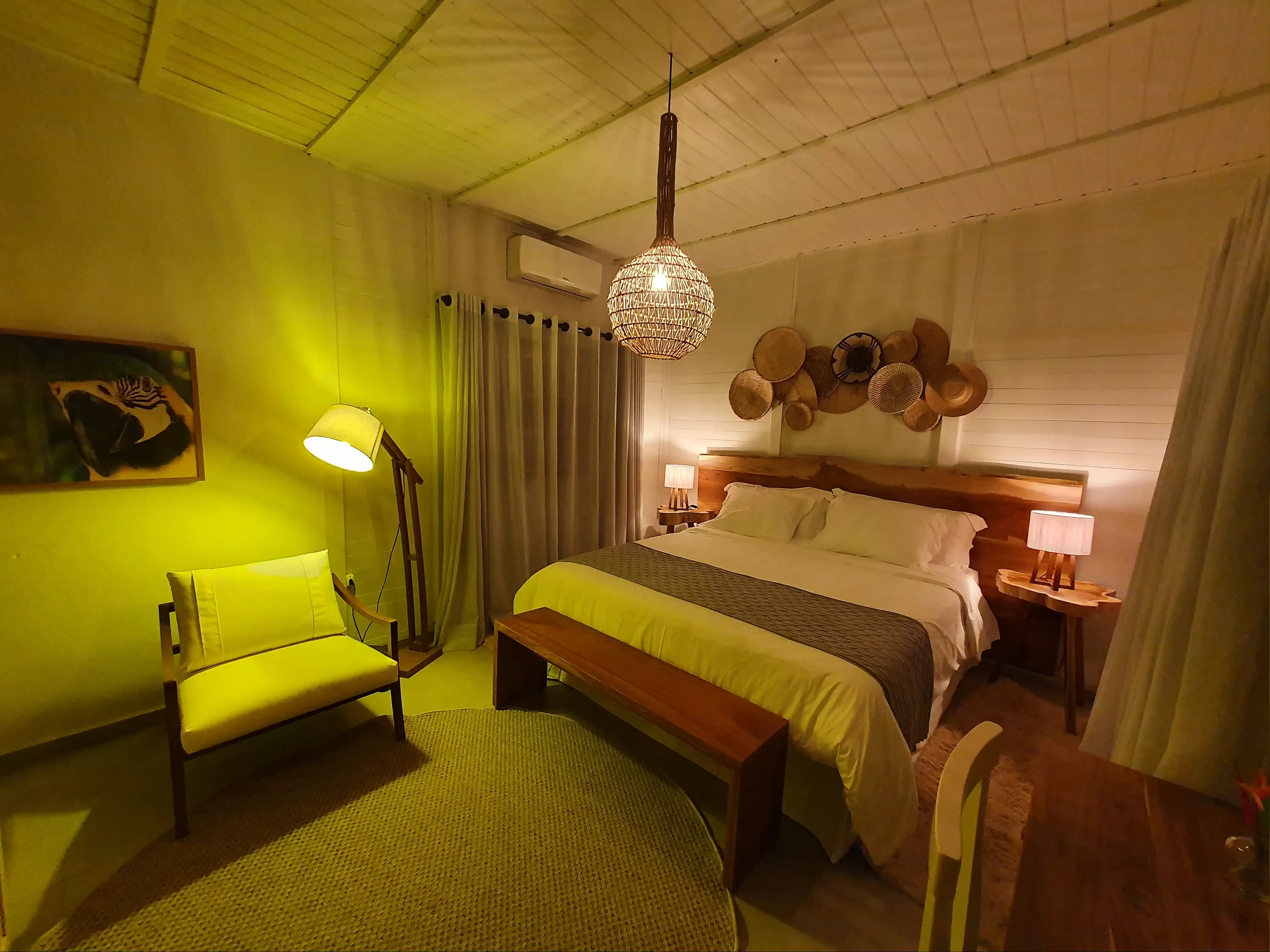 Double Room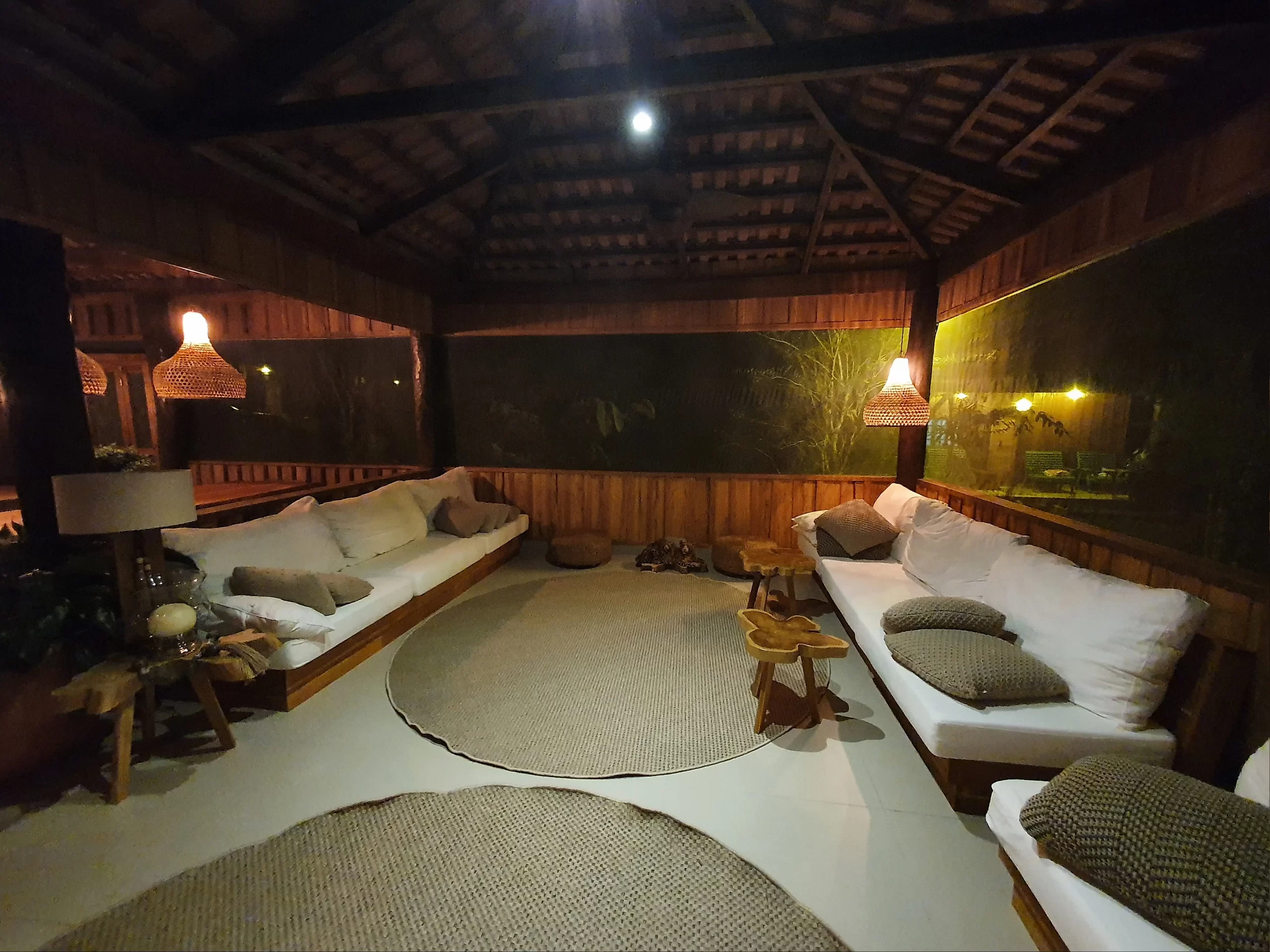 Lounge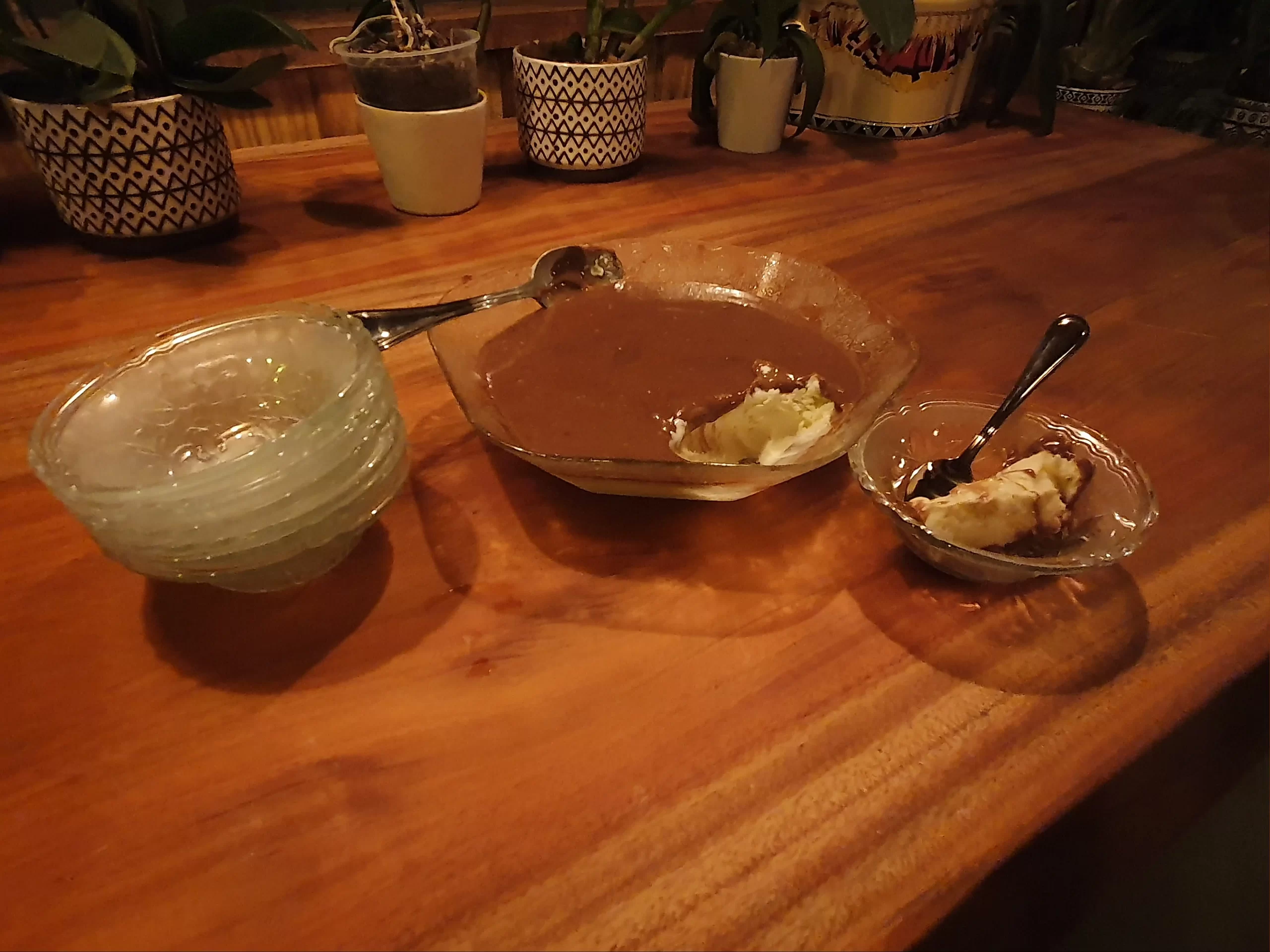 Fabulous desserts