Lodge Bird List Tours to Cristalino
There is little doubt that the Cristalino Lodge is the top birding destination in the Brazilian Amazon. Situated inside a Private Natural Heritage Reserve (RPPN) encompassing nearly 12,000 hectares (30,000 acres), which is in turn surrounded by the Cristalino State Park and a massive forest reserve administered by the Brazilian Air Force, the lodge is surrounded in all directions by untouched Amazon rainforest. A trail system with more than 20 kilometres of trails through a remarkable diversity of micro-habitats puts birders within reach of nearly 600 species of birds. Two fantastic 50-metre observation towers allow access to the forest canopy, where birders can spend wondrous mornings or afternoons watching macaws and other parrots, raptors, toucans, cotingas, and mixed flocks of tanagers and other canopy species. The extensive trail system at the lodge provides the birder with access to bamboo and vine-rich terra firme forest; to a pair of granitic domes with semi-deciduous forest and killer views of the surrounding canopy; we can also visit seasonally flooded forests; a large river island; and oxbow lakes. The lodge's local guides have learned that by maintaining secluded watering holes inside the forest during the dry season, they are able to attract a variety of secretive forest birds to drink at the end of the hot afternoons. Blinds set up at these locations are a can't-miss attraction during the dry season from July into October.
A complete lack of hunting in the area means that most wildlife is tame, and certainly a number of mammal species are well-habituated to the presence of humans doing harmless things like birding and nature photography. Primates are usually seen in good numbers, especially the endemic White-faced Spider Monkey, along with Red-handed Howlers and the Red-nosed Bearded Sakis. Visitors with a specific interest in primate observation and photography should consider a visit during the high-water season in February and March, when most primates are abundant and easily visible along the river edges visiting fruiting trees and descending to feed on tuber-like roots of floating water hyacinths. The end of the dry season (September and October) is the best time of year to find Brazilian Tapirs at Cristalino, as they come to the river edges to cool off in the late afternoons. During a 'good tapir year' it is not uncommon to find multiple adults during a single afternoon boat trip up the Cristalino!
How to get there
Cristalino is reached by a 45-minute to one hour drive from the town of Alta Floresta in the north of Mato Grosso state, followed by a 20 to 25-minute boat ride upstream on the Cristalino river to the lodge. Alta Floresta is served daily by a flight from Cuiabá, the state capital, operated by Azul Brazilian Airlines with a LATAM codeshare. Azul typically flies an EMBRAER E195 on this route, and the flight takes 50-60 minutes.
Key birds and mammals
Nearly 600 bird species have been recorded at Cristalino. It should come as no surprise that the list of specialties and key birds is quite long as a result, and the following list is just a taste of what is possible at the lodge: Razor-billed Curassow, Zigzag Heron, White-browed Hawk, Harpy Eagle, Cryptic Forest-Falcon, Dark-winged Trumpeter, Sunbittern, Crimson-bellied Parakeet, White-bellied Parrot, Kawall's Parrot, Scaled Ground-Cuckoo, Long-tailed Potoo, Fiery-tailed Awlbill, Blue-cheeked Jacamar, Paradise Jacamar, Brown-banded Puffbird, Rufous-necked Puffbird, Black-girdled Barbet, Curl-crested Aracari, Chestnut-throated Spinetail, Dusky-cheeked Foliage-gleaner, Long-billed Woodcreeper, Tapajos Scythebill, Glossy Antshrike, Ornate Stipplethroat, Manu Antbird, Rufous-faced Antbird, Bare-eyed Antbird, Black-spotted Bare-eye, Alta Floresta Antpitta, Chestnut-belted Gnateater, Amazonian Royal Flycatcher, Dusky-tailed Flatbill, Amazonian Umbrellabird, Spangled Cotinga, Pompadour Cotinga, Bare-necked Fruitcrow, Snow-capped Manakin, Flame-crested Manakin, Slaty-capped Shrike-Vireo, Tooth-billed Wren, Red-billed Pied Tanager, Paradise Tanager, Yellow-shouldered Grosbeak, Rose-breasted Chat and Rufous-bellied Euphonia.
Top mammals found at Cristalino include White-faced Spider Monkey, Red-handed Howler, Red-nosed Bearded Saki, Tufted Capuchin, Giant Otter, White-lipped Peccary and Brazilian Tapir.
Accommodations
Cristalino has 18 rooms across four different accommodation categories. All accommodations are very comfortable, spacious and tastefully decorated. We recommend the Junior Bungalows for guests who wish to have a bit more privacy, as each bungalow is situated in its own private forest clearing. The accommodations are designed to maximize integration with the surrounding environment, and there is no air-conditioning. The food at the lodge is excellent with a variety of options, and the lodge is happy to cater to specific dietary requirements. The lodge is rightfully considered one of the finest eco-hotels in Brazil and has been featured in many travel publications as such.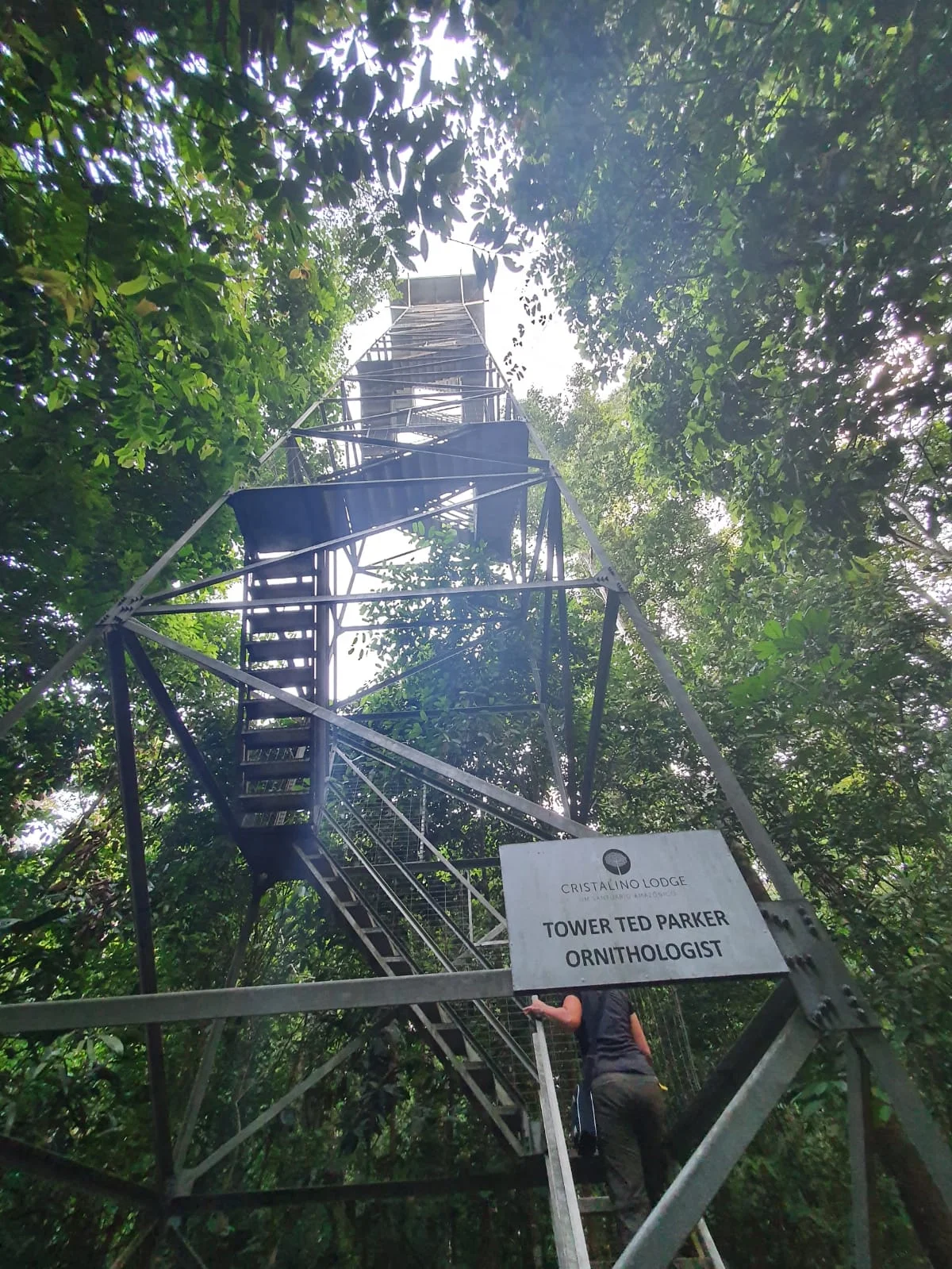 Canopy Tower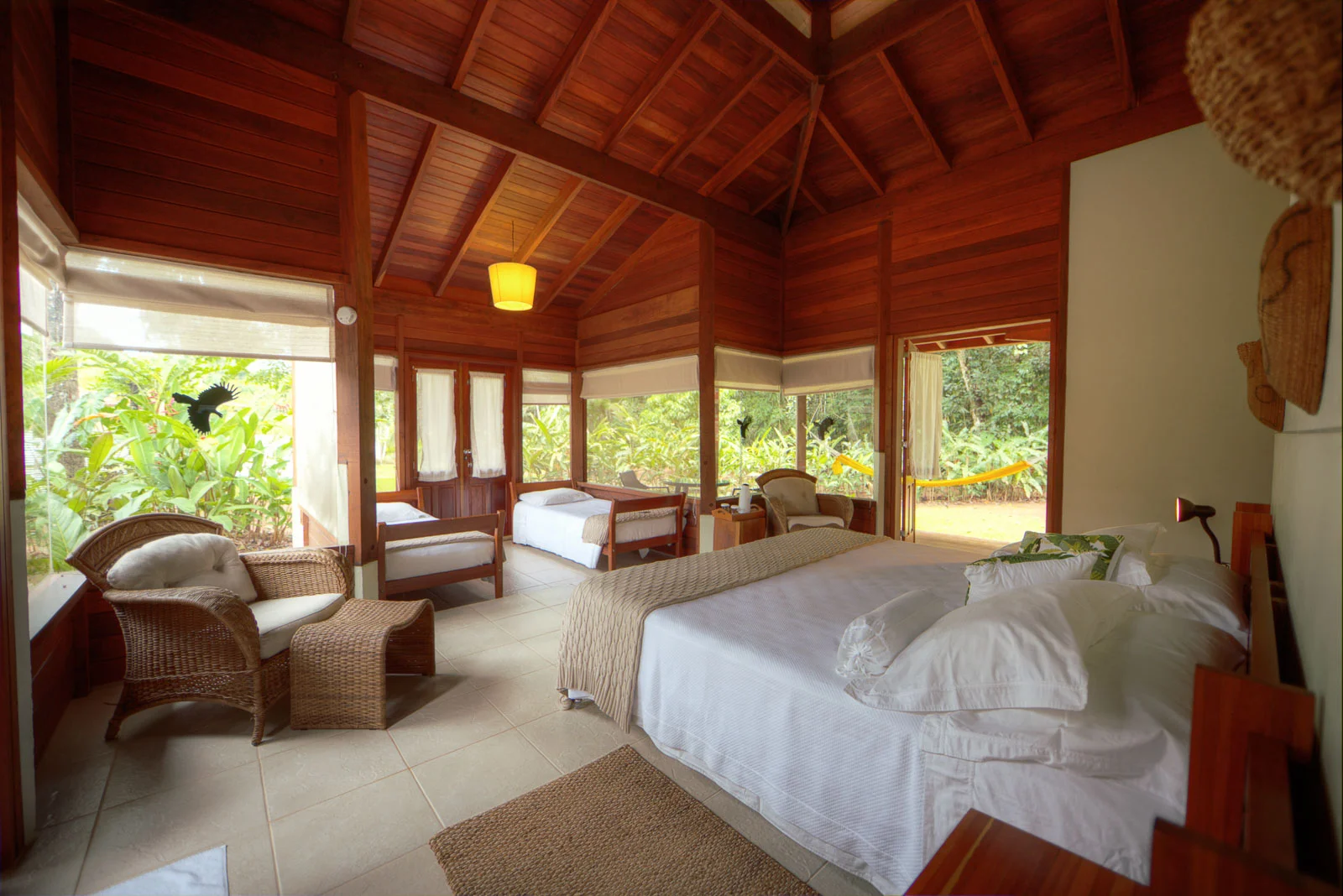 Bungalow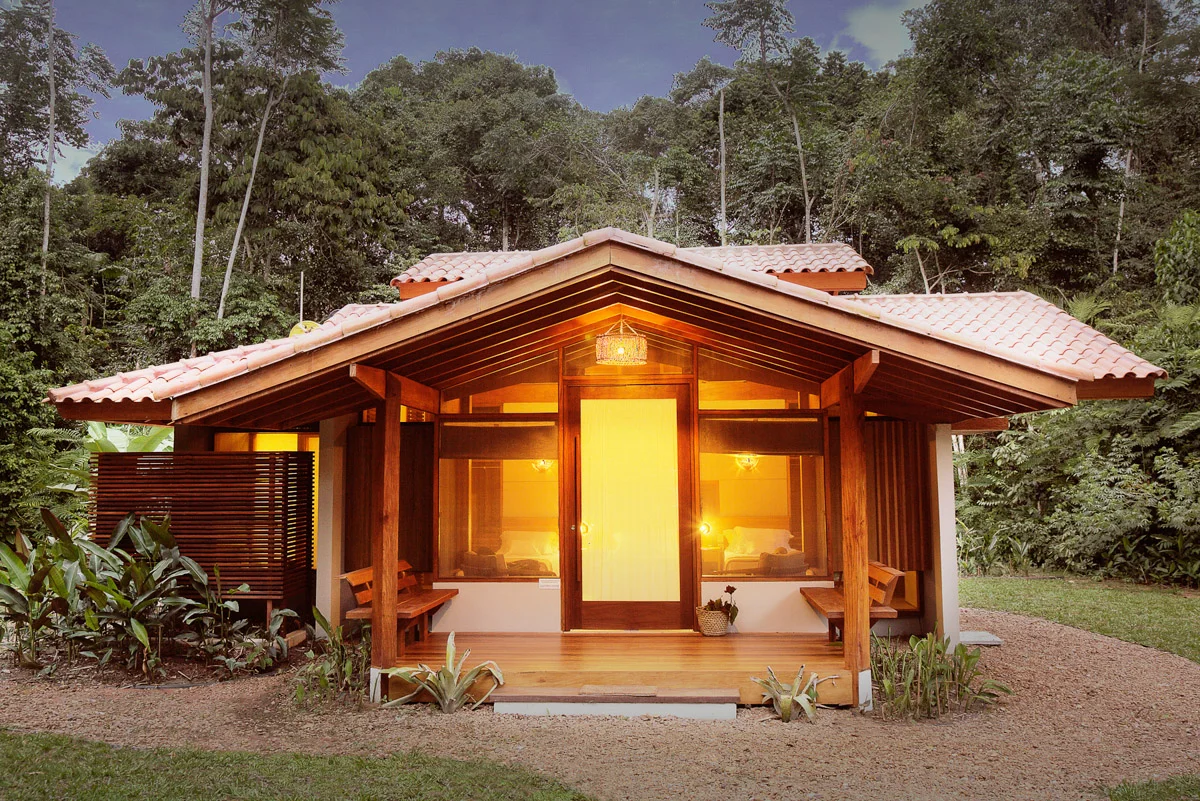 Junior Bungalow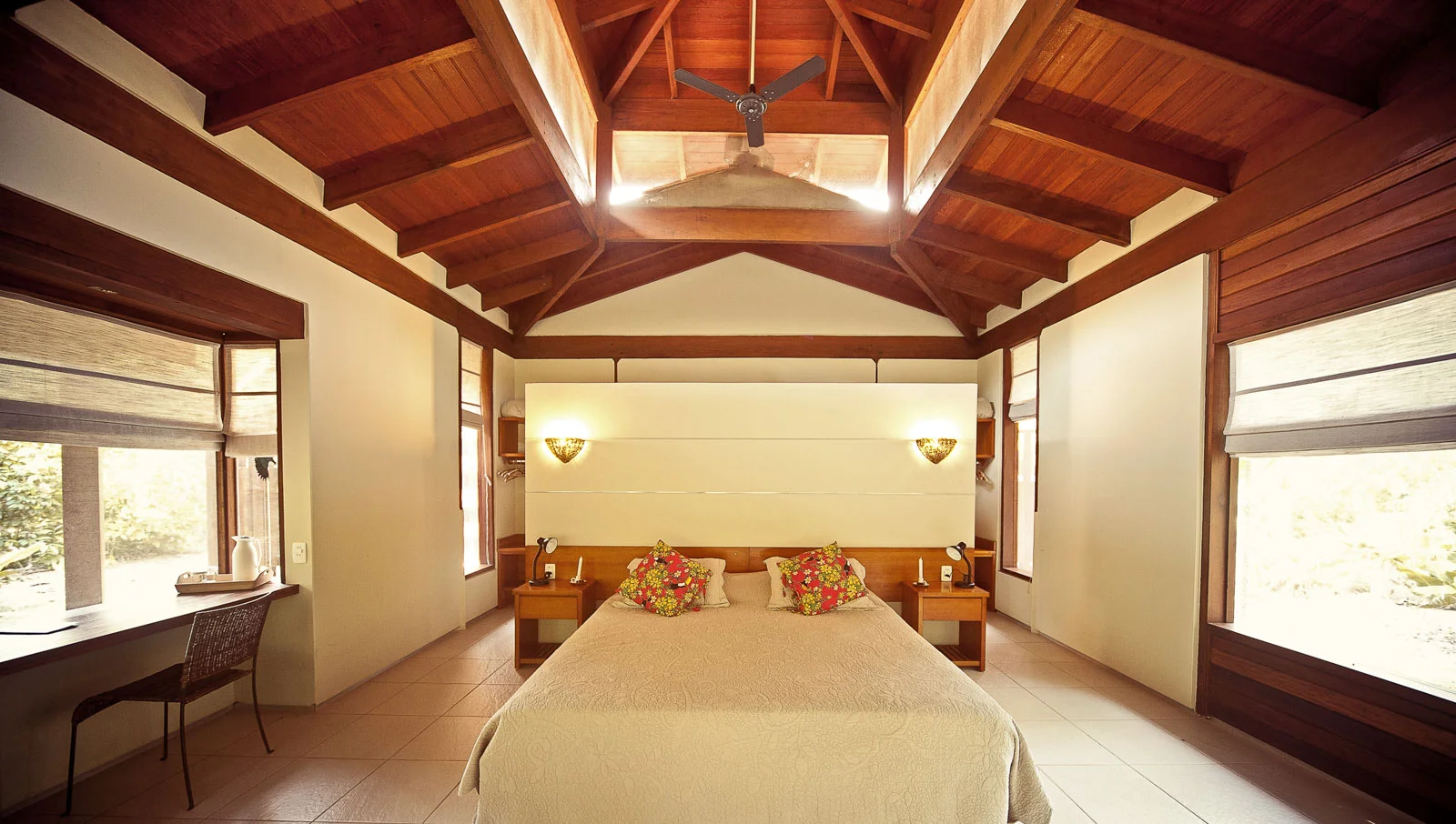 Superior Room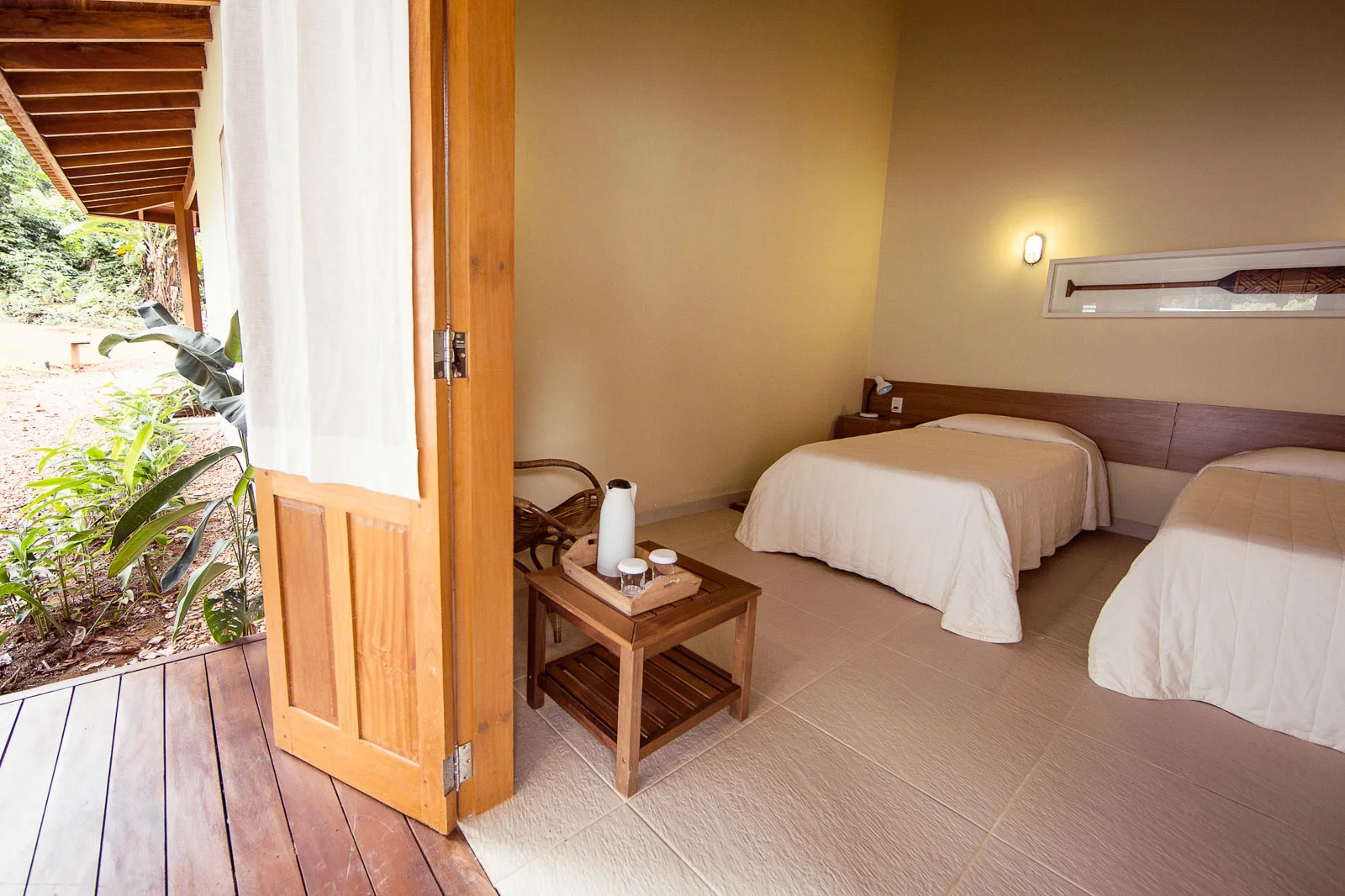 Standard Room