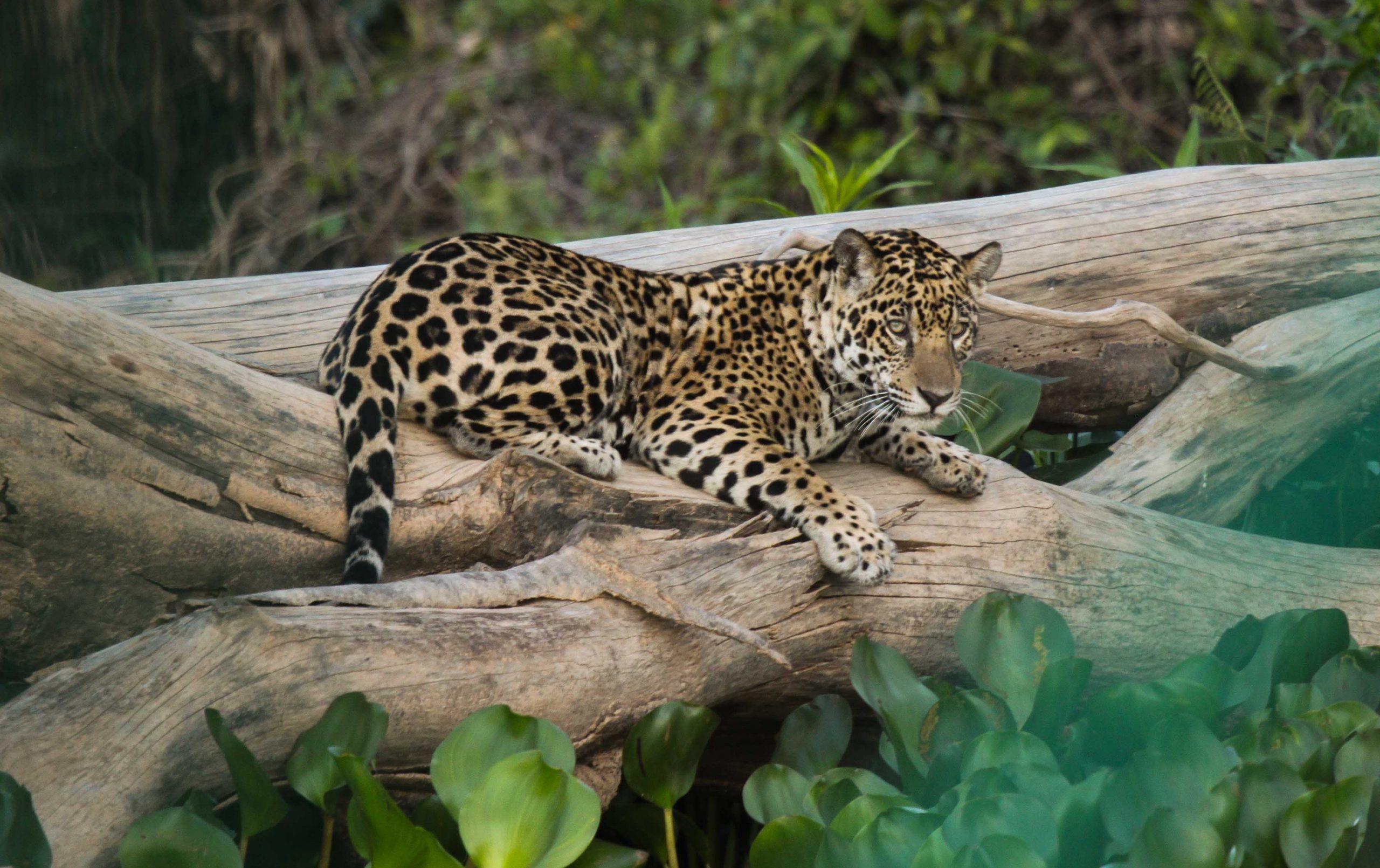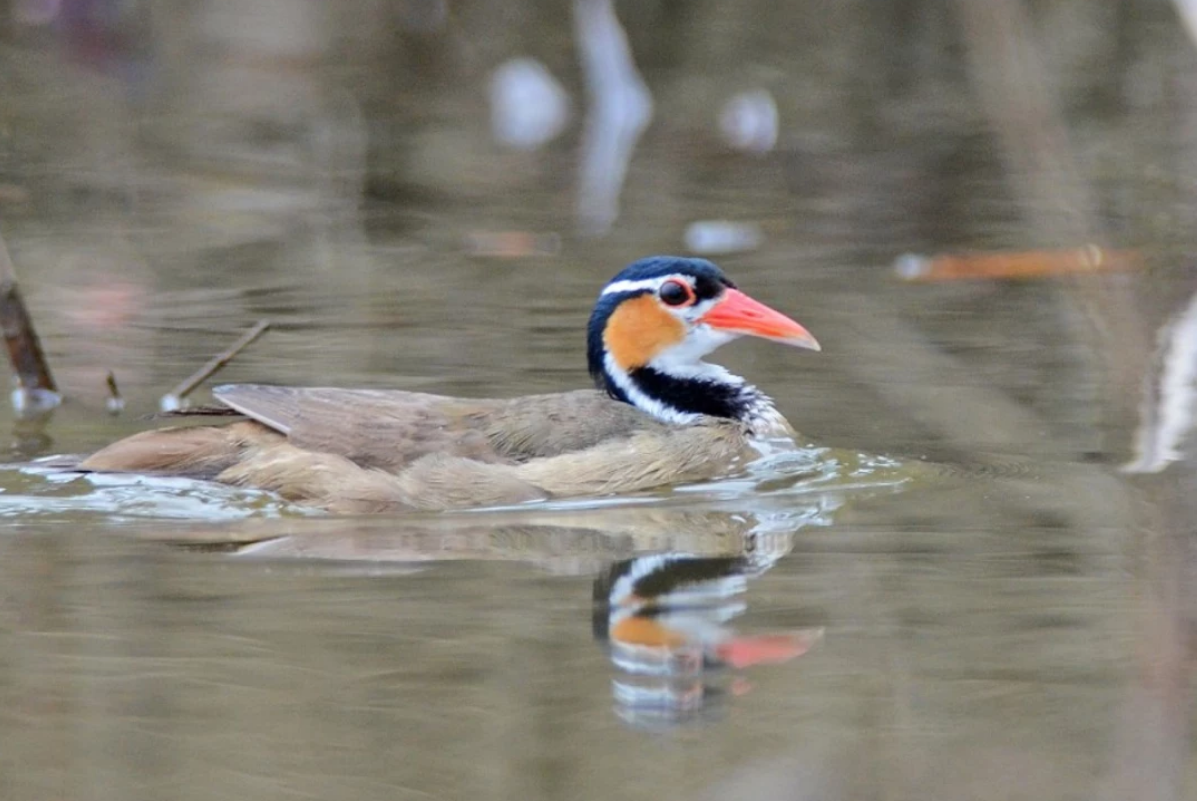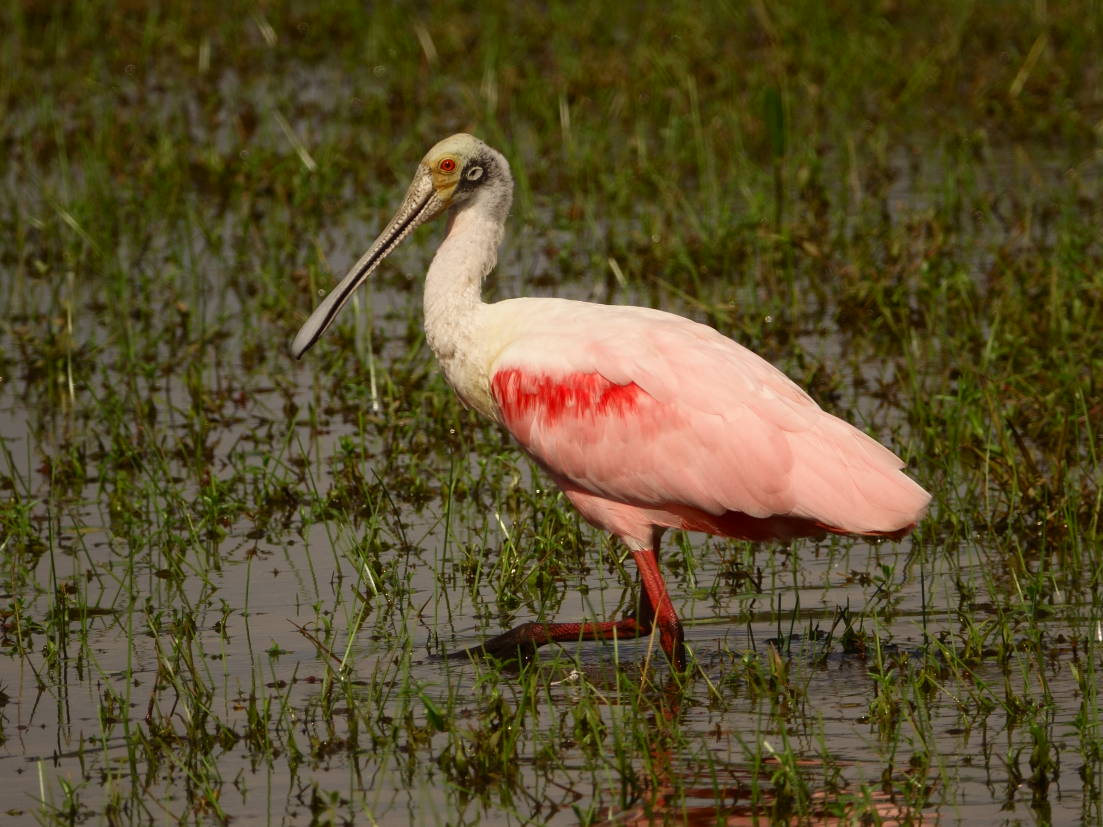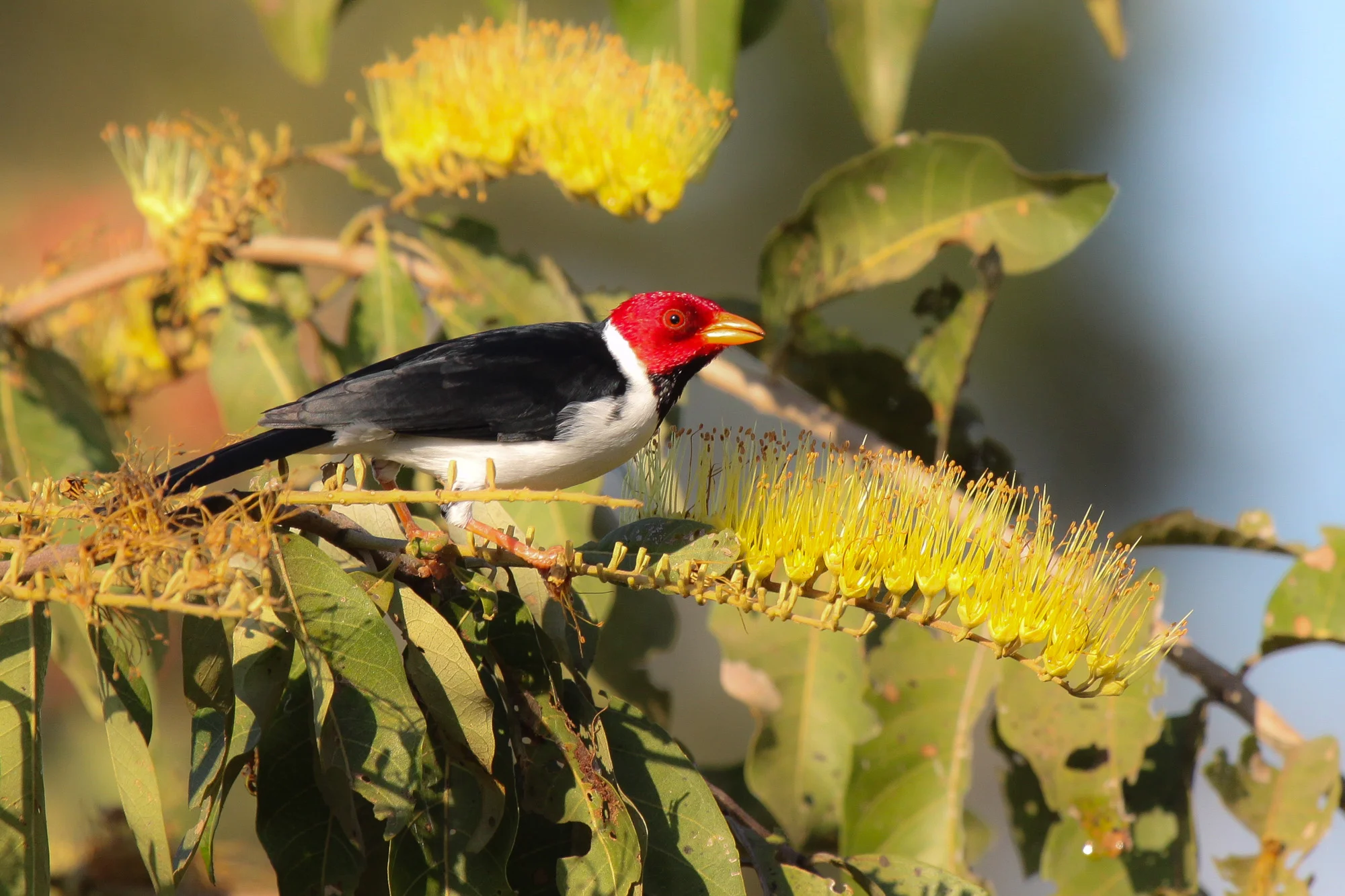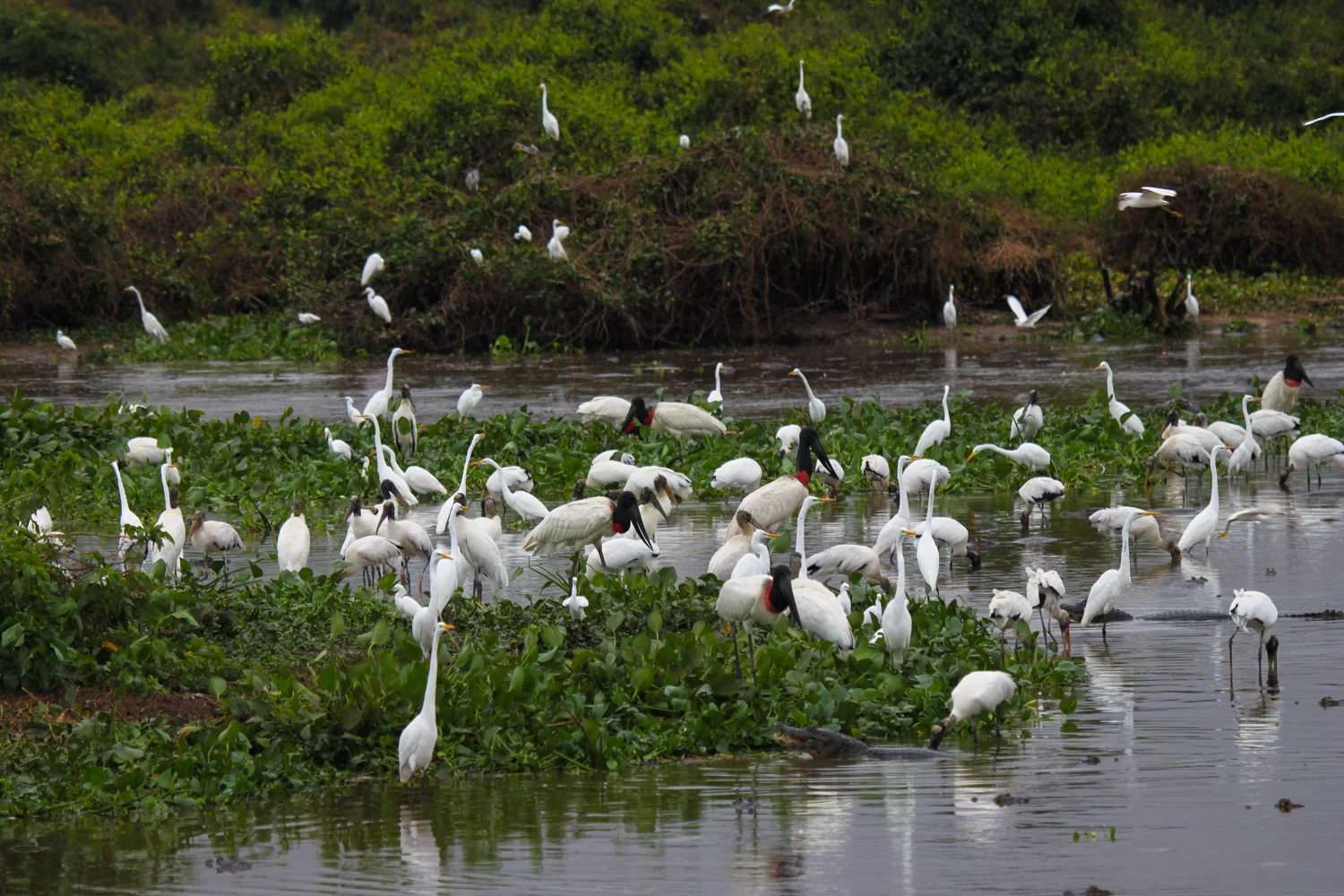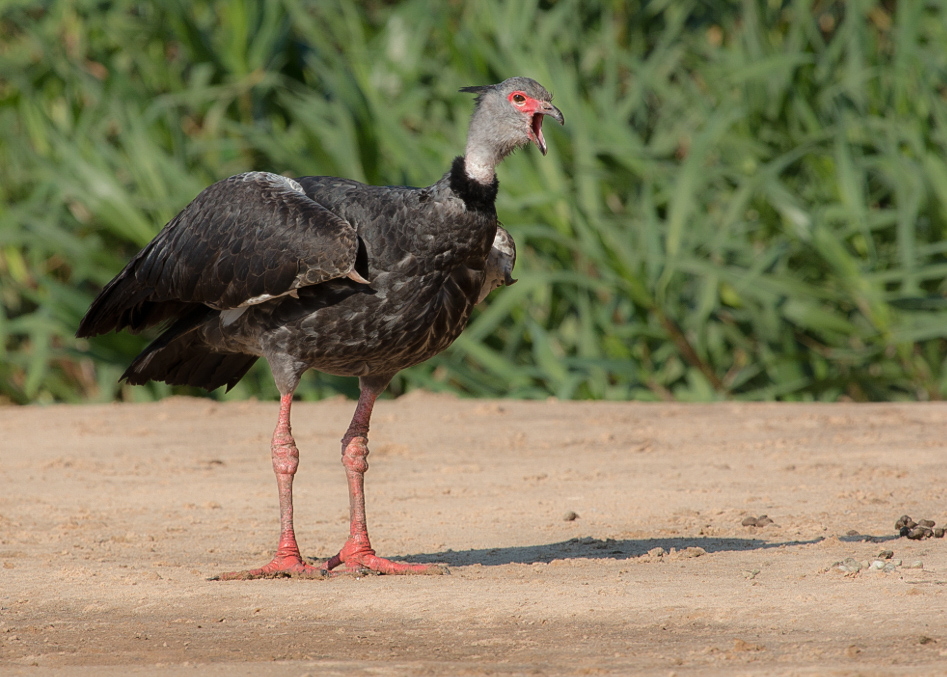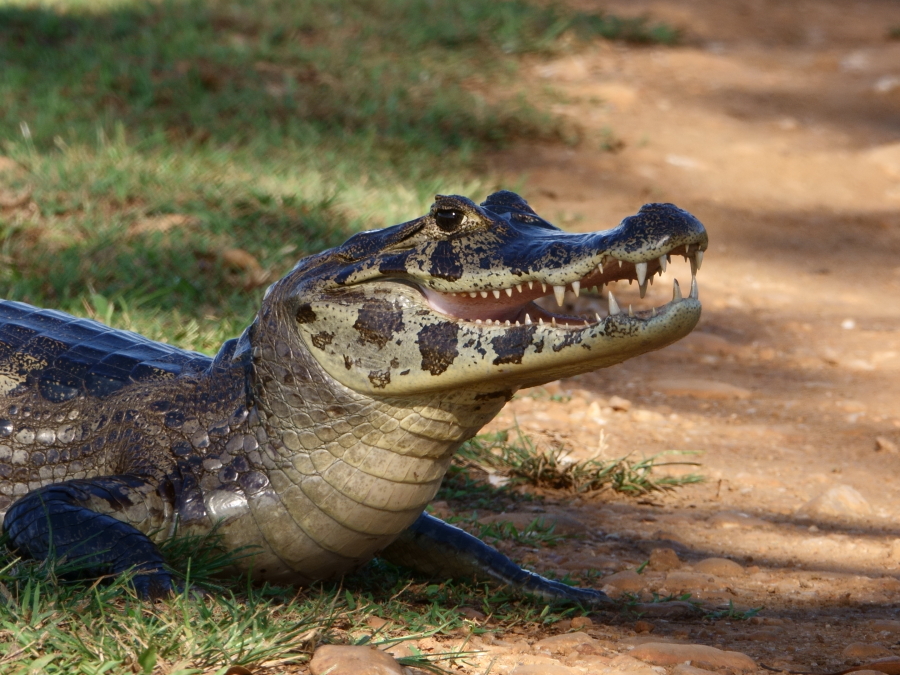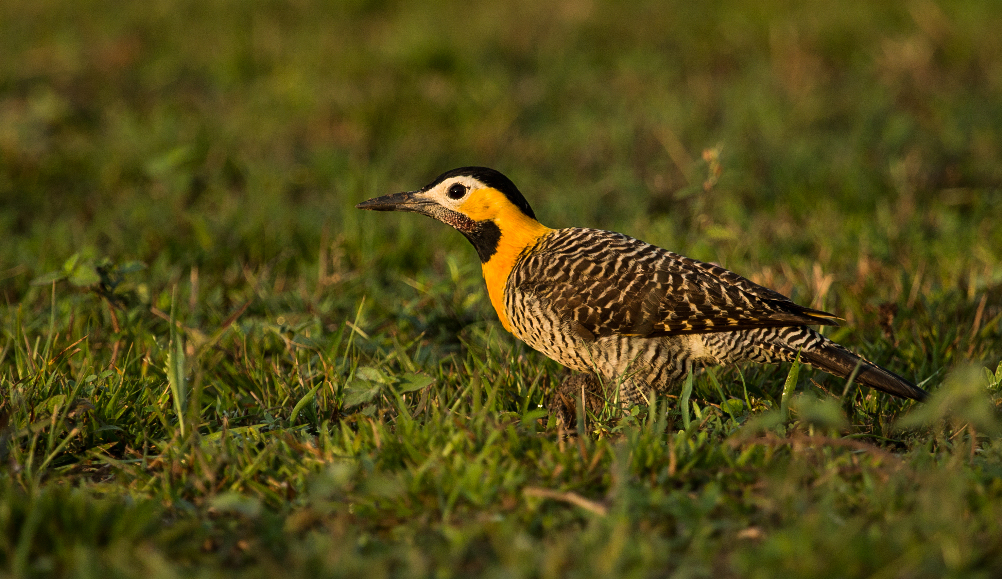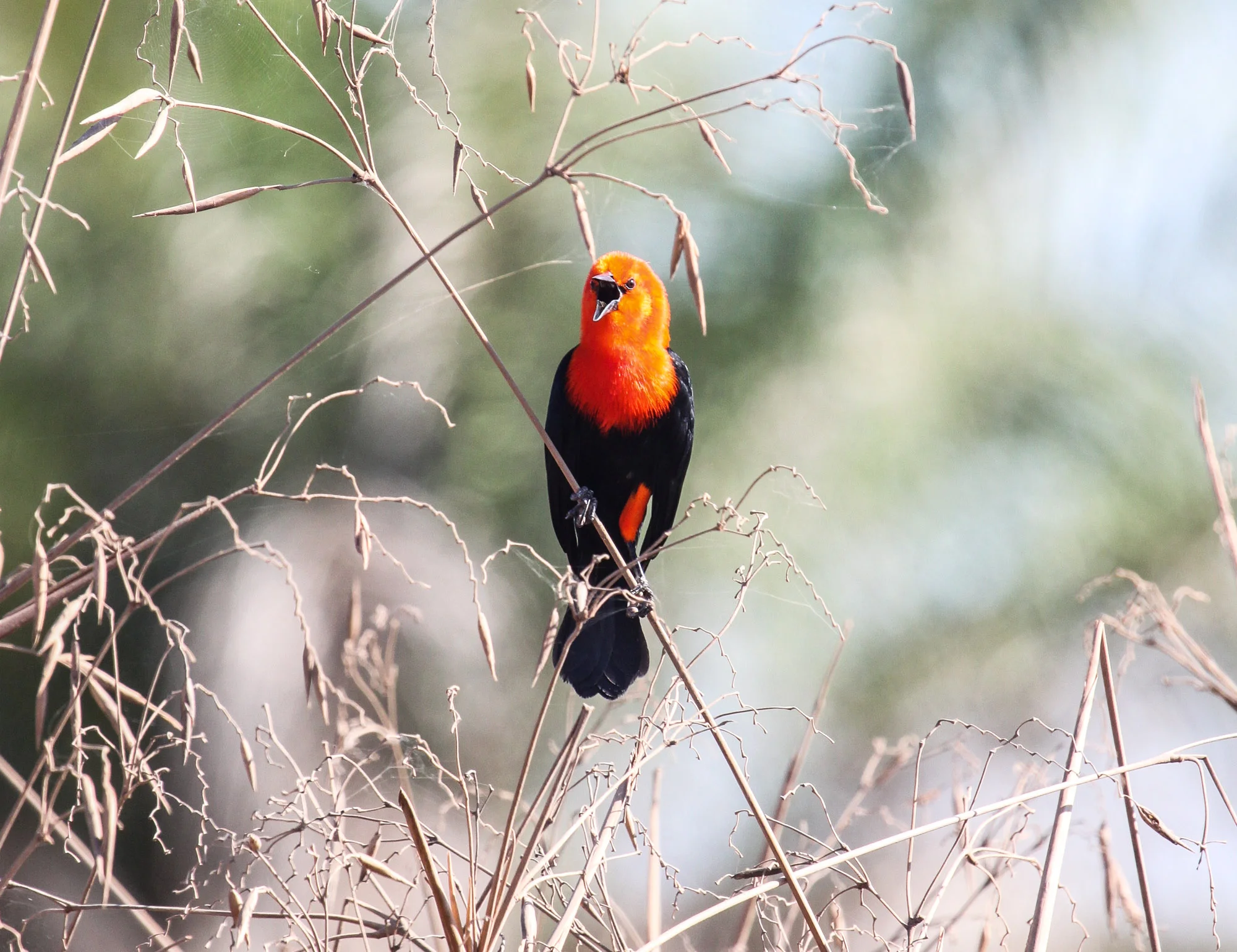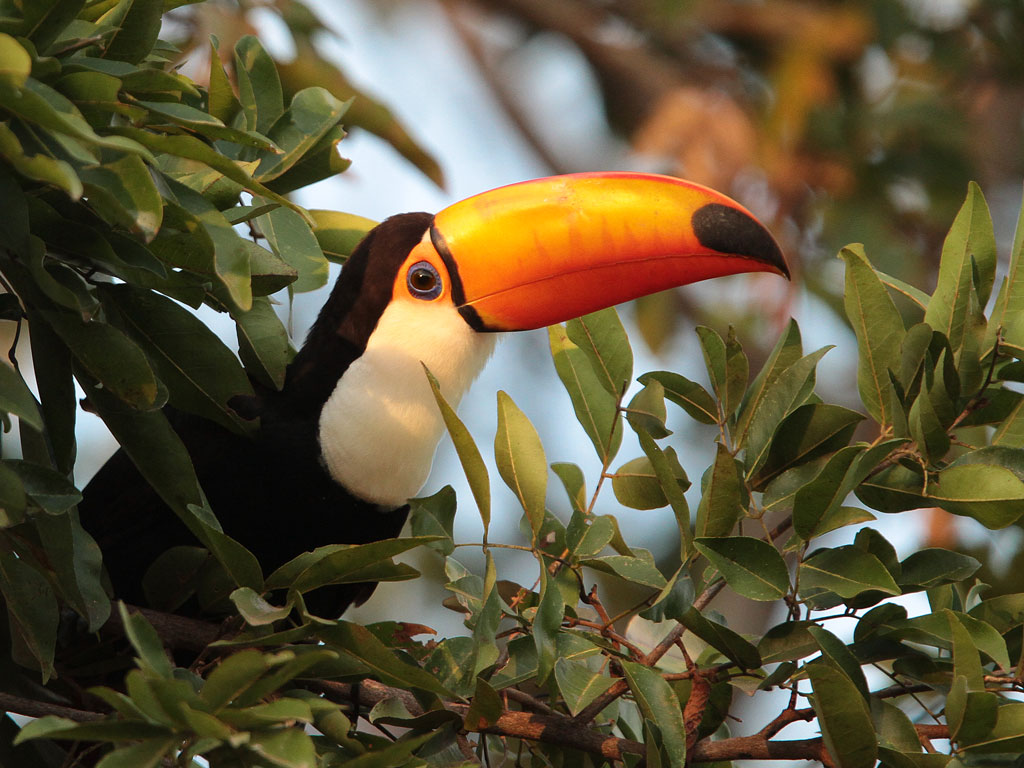 Sungrebe (Heliornis fulica)
Roseate Spoonbill (Platalea ajaja)
Yellow-billed Cardinal (Paroaria capitata)
Southern Screamer (Chauna torquata)
Scarlet-headed Blackbird (Amblyramphus holosericeus) (
Toco Toucan (Ramphastos toco)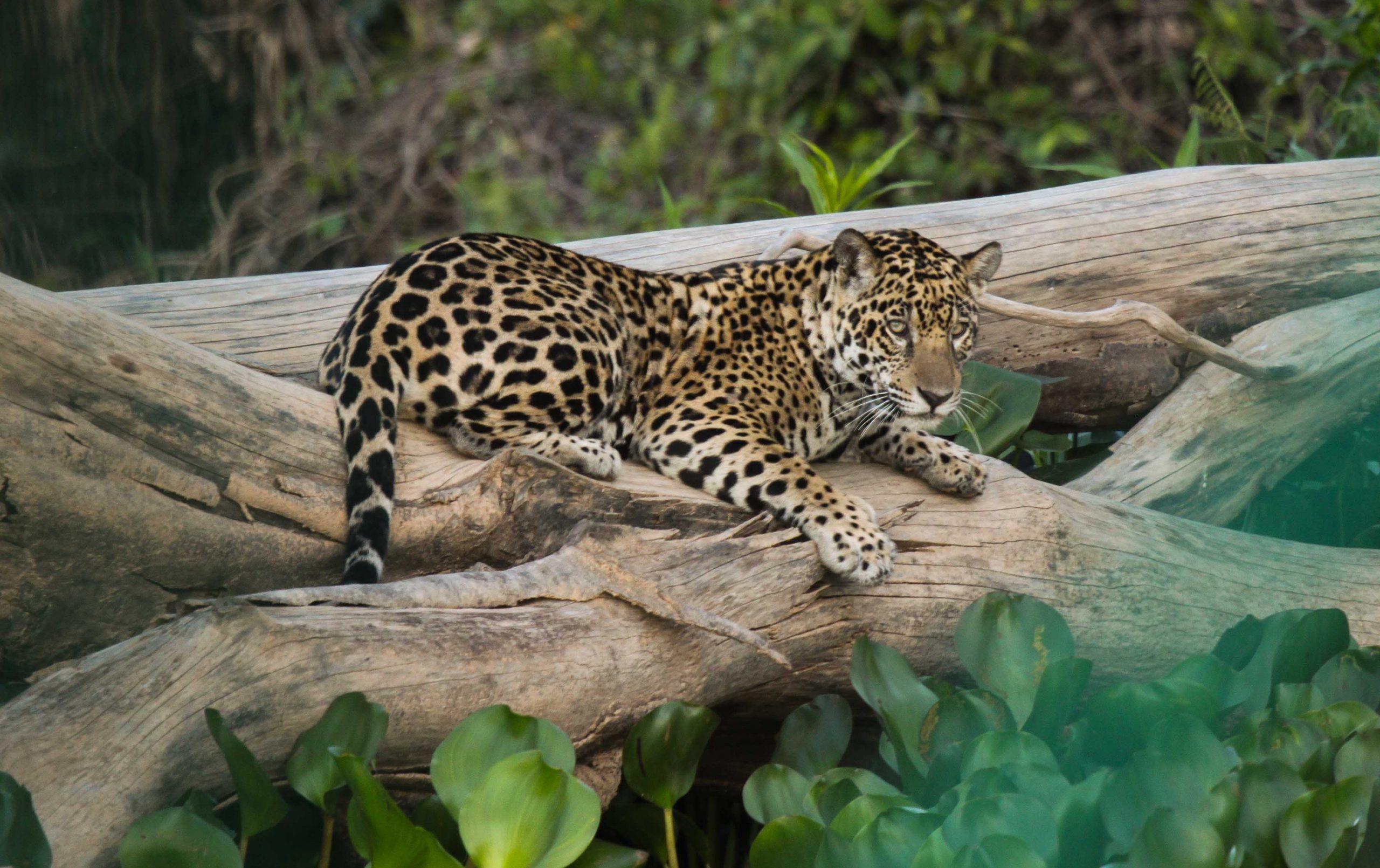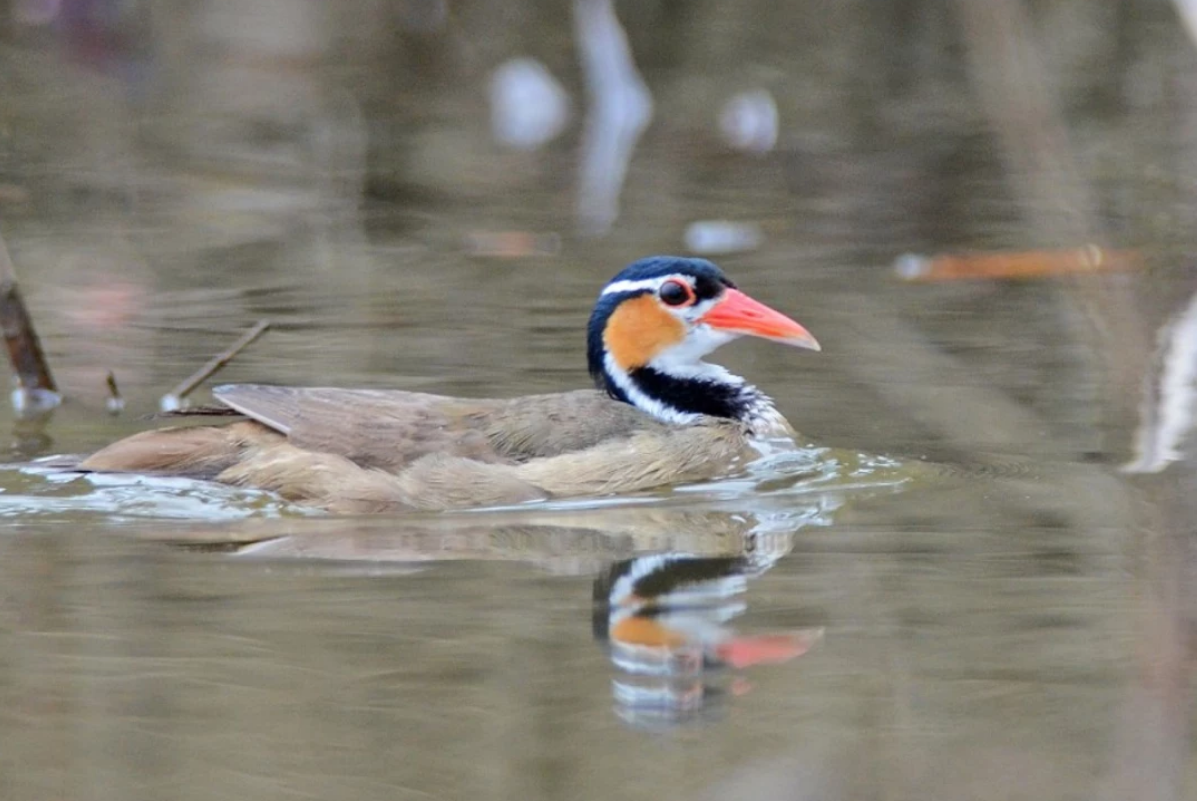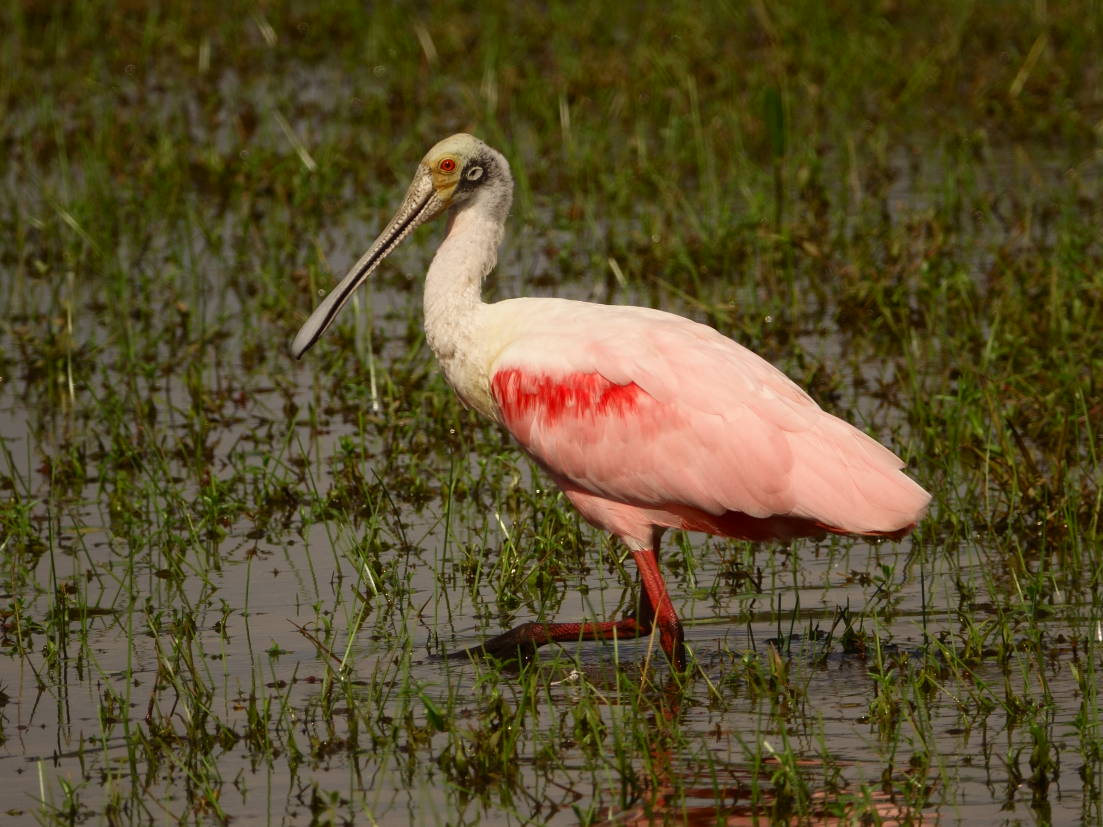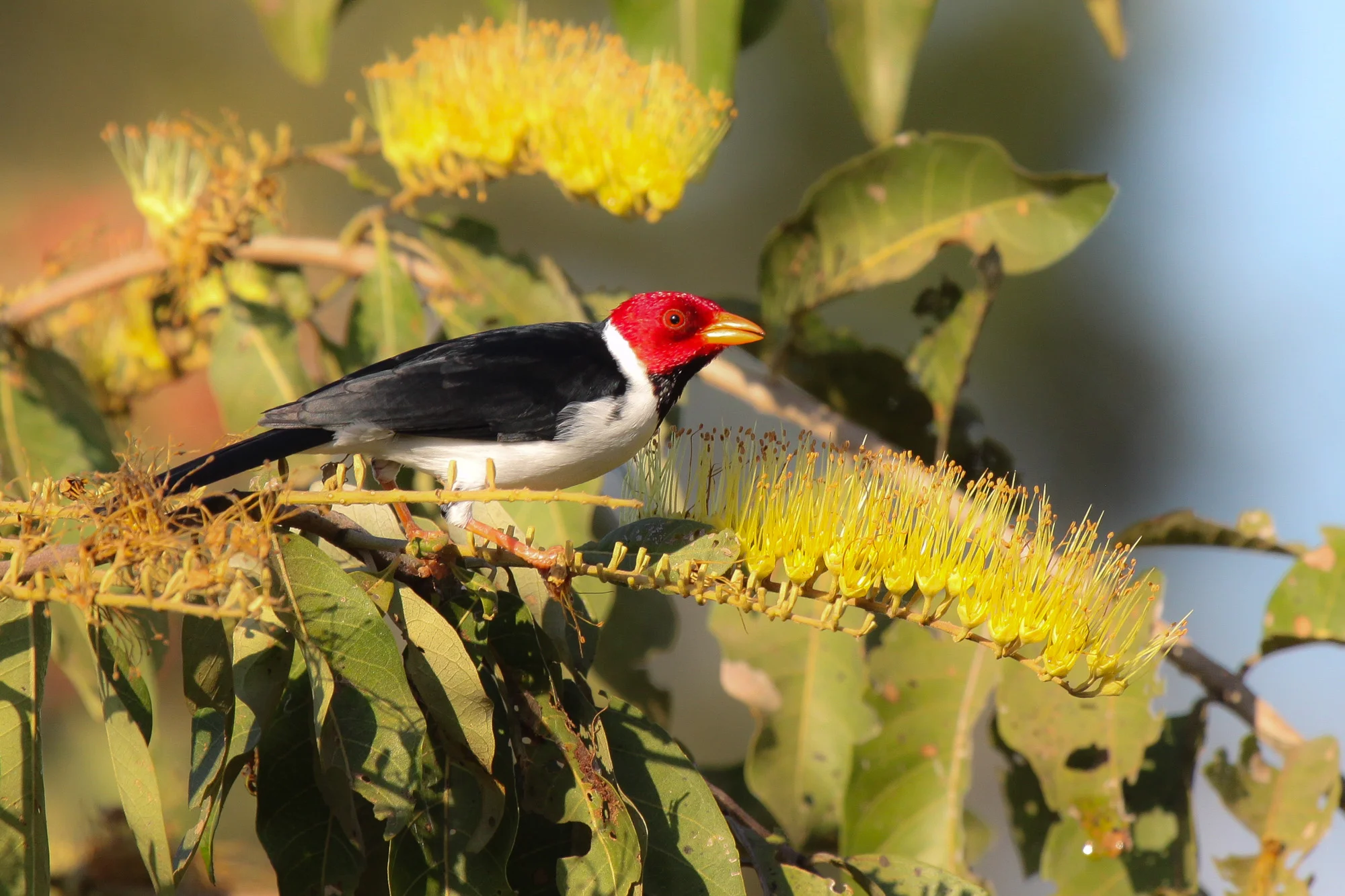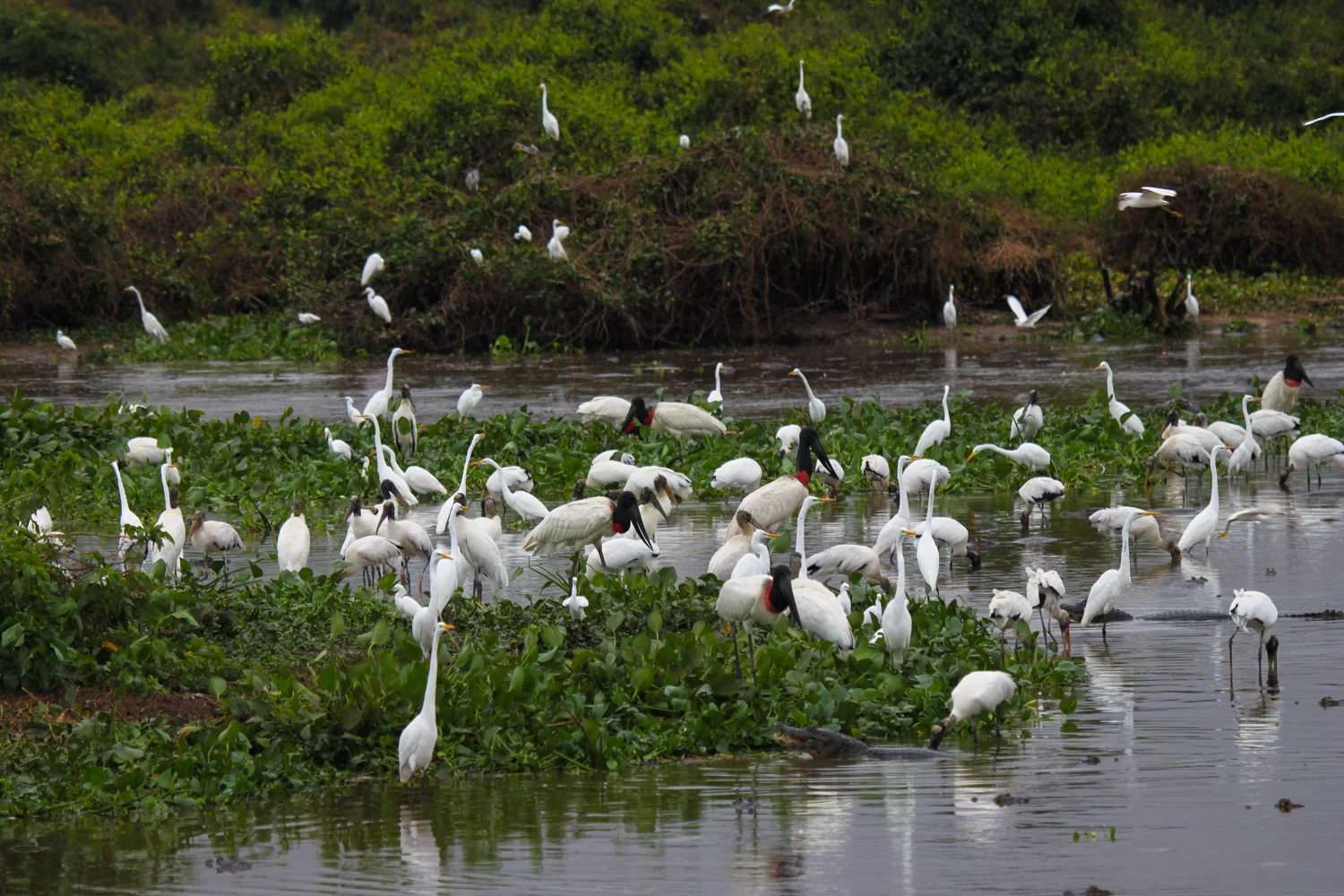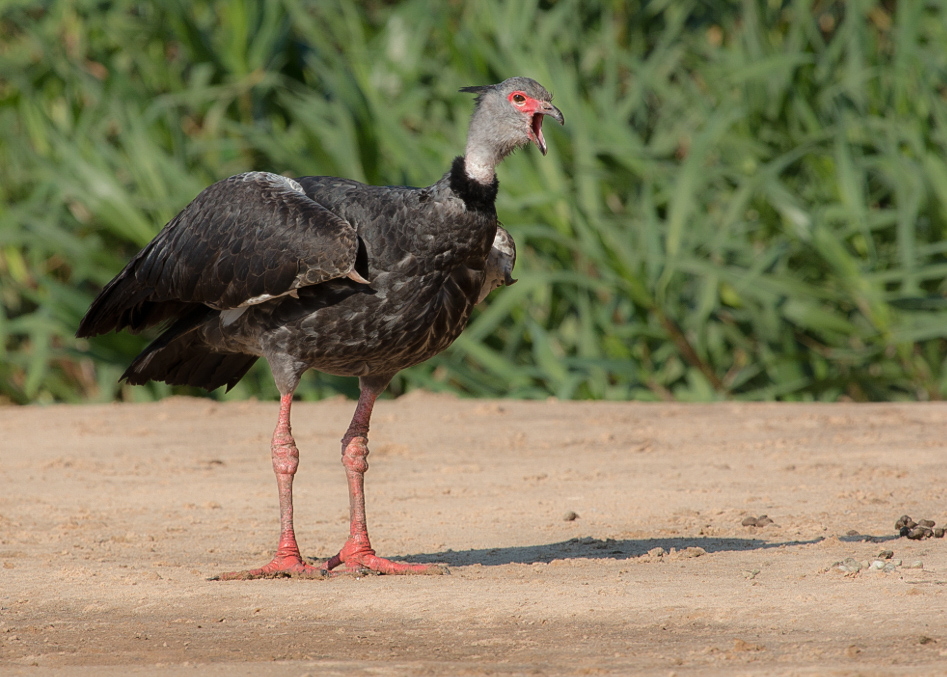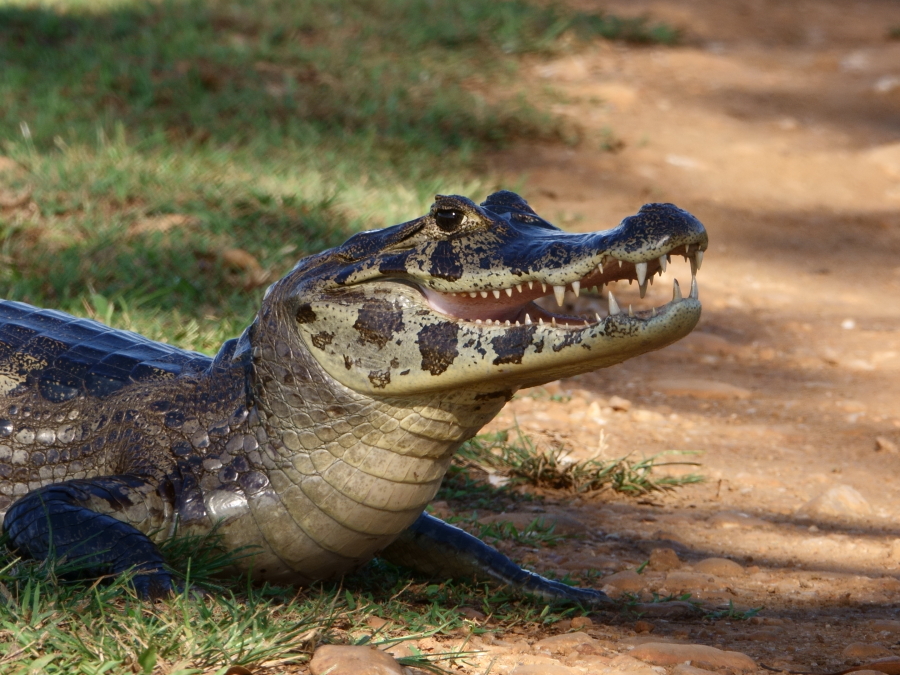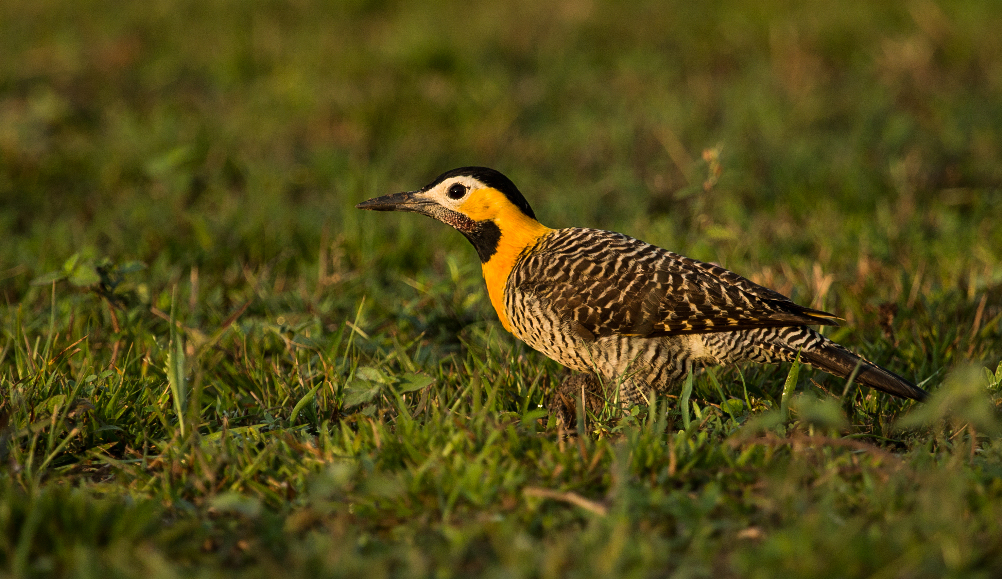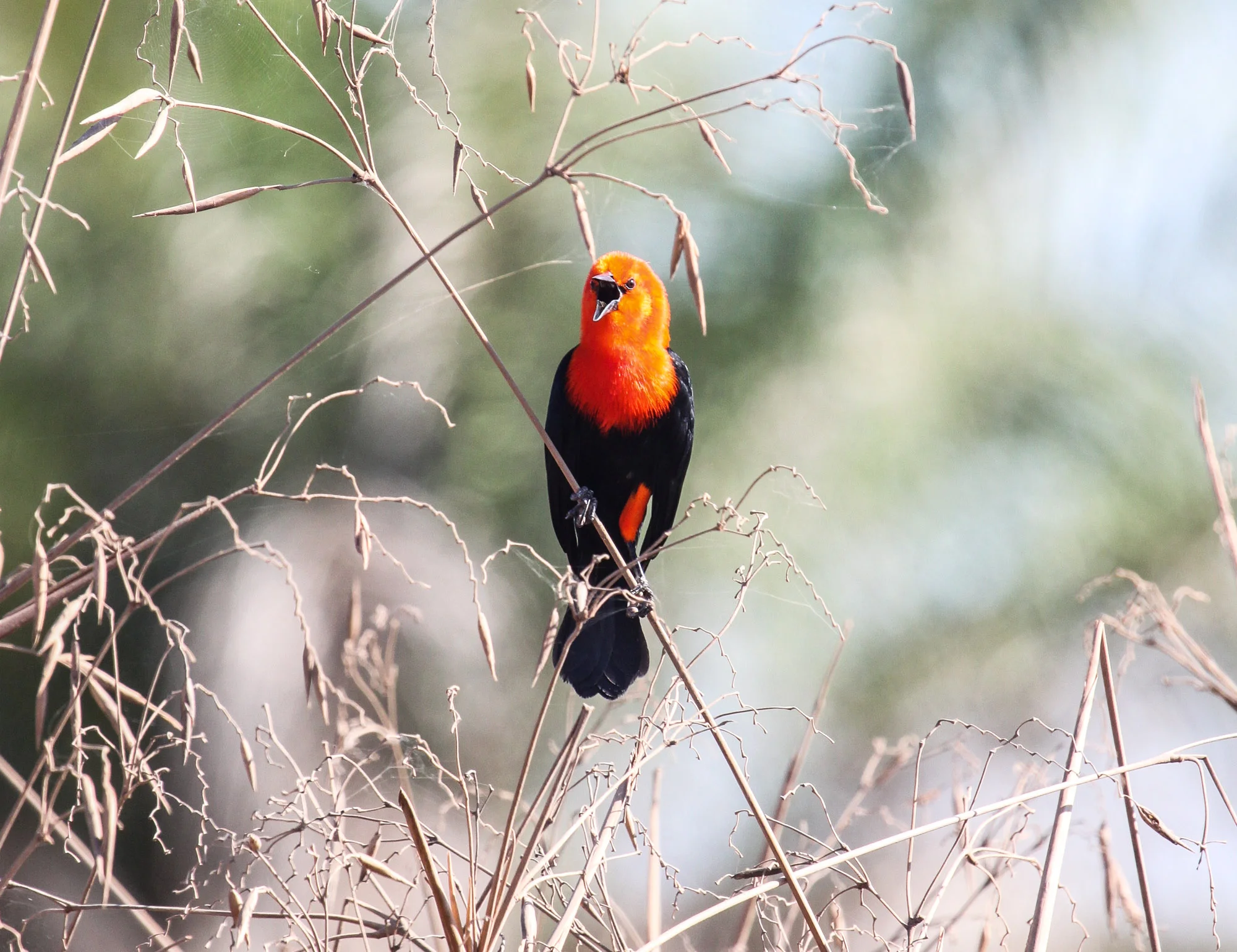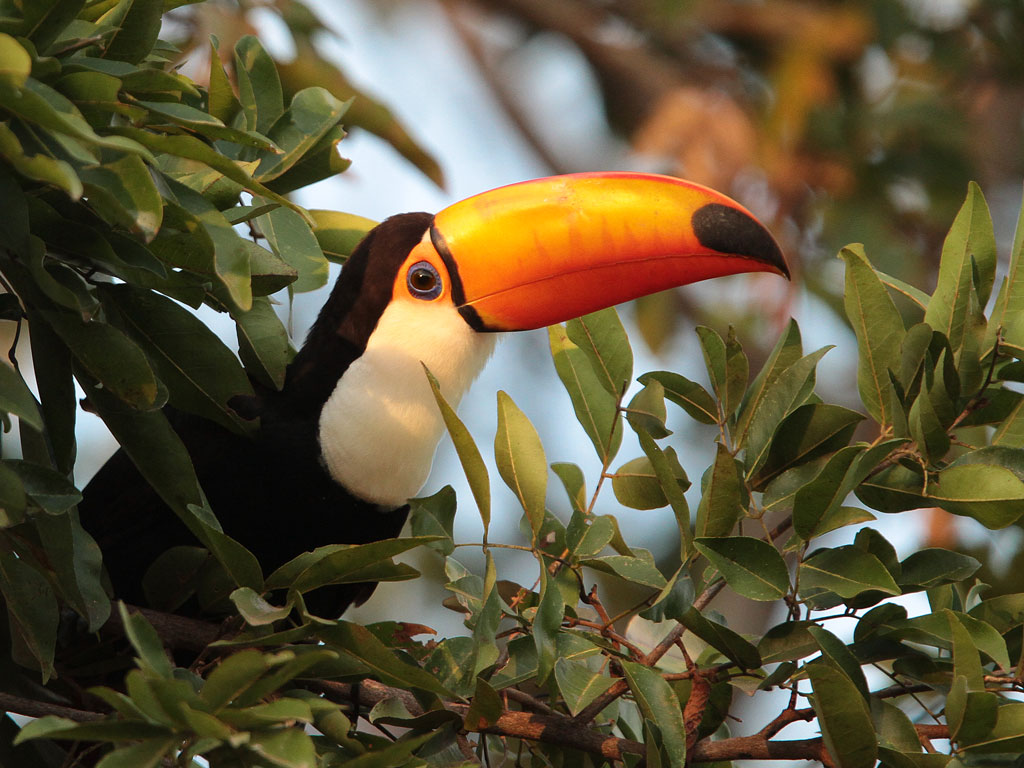 Best time of year:
May – November
Duration:
9 – 12 days
Difficulty:
Easy
Accommodations:
Good. We stay in good nature lodges with air-conditioned en-suite rooms.
Starts and Ends in: Cuiabá
Tour Overview
The Brazilian Pantanal is undoubtedly South America's greatest destination for wildlife watching and nature photography. Shared with Bolivia and Paraguay but mostly located in the Brazilian states of Mato Grosso and Mato Grosso do Sul, the Pantanal is the world's largest freshwater wetland ecosystem. Unlike the vast rainforests of the tropics, the Pantanal is a mostly open environment where wildlife is visible and abundant. Many wading birds such as herons, storks, and ibises take advantage of seasonally available resources as the flood waters recede each year during the dry season, and the variety and concentrations of birds and mammals here is unrivalled in South America. Evocative tropical birds such as Hyacinth Macaw, Toco Toucan, Jabiru, Greater Rhea, Red-legged Seriema, Agami Heron, Sunbittern and Sungrebe are all expected on this tour.
Add to that a very real chance to see Jaguar, South America's top predator and a truly magnificent big cat, and you have the elements of memorable natural history experience. We visit the best birding lodges along the Transpantaneira, the dead-end dirt road which runs through 150 kilometres of this amazing area. The birding here is both easy and extremely productive, and we should record more than 100 species of birds on several days during this tour. We will be up early every morning and will offer optional night drives on several evenings. There will be several exciting boat rides, including during two full days dedicated to the best areas for Jaguars and Giant Otters. We have excellent chances to see and photograph both of these impressive predators.
On most days we will take a break after lunch during the hottest part of the day, and participants can take a siesta, process photos, or explore the grounds of our lodges, all of which are very birdy places. Of course, if you prefer to keep on birding, there's nothing we'd rather do. This is your trip, and nothing is too much to ask to make it a truly memorable experience in South America's showcase environment.
Itinerary
Day 1: Arrival in Cuiabá.
Arrival in Cuiabá (IATA: CGB), capital of Mato Grosso state in central-west Brazil. Overnight at a comfortable city hotel.
Night in Cuiabá.
Day 2: Travel to the Pantanal.
Early breakfast and departure for the Pantanal (ca. 1.5 hour drive). We could be seeing our first Hyacinth Macaws before lunch.
Overnight at Pousada Piuval or Aymara Lodge.
Day 3: Grasslands and gallery forests of northern Transpantaneira.
Full day birding seasonally flooded grasslands and gallery forests of the northern Pantanal. Night safari for mammals and birds.
Overnight at Pousada Piuval or Aymara Lodge.
Day 4: Transpantaneira to Pixaim river.
Birding south along the Transpantaneira (the Trans-pantanal "highway", the dirt road that strikes into the heart of the northern Pantanal) to the Pixaim river. Afternoon boat trip on the Pixaim, looking for Sungrebe and Agami Heron.
Overnight at Hotel Mato Grosso or Southwild Pantanal.
Day 5: Pixaim area.
Full day birding the Pixaim area, splitting our time between a boat trip on the Pixaim river itself and trails in the rich gallery forests that flank the river.
Overnight at Hotel Mato Grosso or Southwild Pantanal.
Day 6: Transpantaneira south to Porto Jofre.
Birding south along the Transpantaneira to its terminus at the small fishing village of Porto Jofre. Afternoon boat trip on the Cuiabá river and tributaries in our first effort to spot Jaguar.
Night at Porto Jofre or aboard a comfortable floating hotel.
Days 7 & 8: Jaguars!
Two full days on the Cuiabá river and tributaries to watch and photograph Jaguars (and Giant Otters, capybaras, caiman, and oh so many birds…)
Nights at Porto Jofre or aboard a comfortable floating hotel.
Day 9: Birding north on Transpantaneira.
Bird our way north along the Transpantaneira, spending the best part of the morning in the Campos do Jofre area, a vast flooded wetland full of screamers, jacanas, caiman, and storks. Arrive in the afternoon to our lodge (one of Pousada Rio Claro, Pouso Alegre, Aymara Lodge, or Pousada Piuval — depending on flight schedules on Day 9).
Day 10: Return to Cuiabá in time to catch outbound flights.

Key Birds
Hyacinth Macaw, Jabiru, Toco Toucan, Greater Rhea, Chestnut-bellied Guan, Red-legged Seriema, Undulated Tinamou, Southern Screamer, Agami Heron, Maguari Stork, Plumbeous Ibis, Roseate Spoonbill, Bare-faced Curassow, Blue-throated Piping-Guan, Sungrebe, Sunbittern, Long-tailed Ground-Dove, Golden-collared Macaw, Great Potoo, Nacunda Nighthawk, Buff-bellied Hermit, Blue-crowned Trogon, White-wedged Piculet, Cream-coloured Woodpecker, Pale-crested Woodpecker, Cinereous-breasted Spinetail, White-lored Spinetail, Great Rufous Woodcreeper, Red-billed Scythebill, Mato Grosso Antbird, Helmeted Manakin, White-eyed Attila, Purplish Jay, Fawn-breasted Wren, Red-crested Cardinal, Yellow-billed Cardinal, White-bellied Seedeater, Orange-backed Troupial, Scarlet-headed Blackbird.
Top Mammals
JAGUAR, Giant Otter, Marsh Deer, Capybara, Brazilian Tapir, Giant Anteater, Crab-eating Fox, Black-and-gold Howler, Black-tailed Marmoset, South American Coati, Collared Peccary.
Possible Extensions and Additions
Chapada dos Guimarães
The Northern Pantanal is easily combined with an extra two or three nights spent visiting the Chapada dos Guimarães National Park. The Park is located just 65 kilometres from Cuiabá, and it protects more than 32,000 hectares (80,000+ acres) of Cerrado, a shrubby savanna habitat endemic to central Brazil and adjacent parts of Bolivia and Paraguay. The cerrado and gallery forest habitat atop the sandstone plateau here are home to a variety of birds not found in the Pantanal, including Collared Crescentchest, Red-and-green Macaw, White-eared Puffbird, Horned Sungem, Curl-crested Jay, Shrike-like Tanager and more.
Jardim da Amazônia Lodge
Situated four hours north of Cuiabá, this is a lovely family-run lodge situated in an area of remnant Amazon rainforest surrounded by a sea of agriculture. Home to the enigmatic Cone-billed Tanager. The trail system holds a nice range of southern Amazonian specialties, including Red-throated Piping-Guan, Spotted Puffbird, Black-girdled Barbet, Blue-cheeked Jacamar, Red-necked Aracari, Gould's Toucanet, Red-bellied Macaw, Point-tailed Palmcreeper, Pink-throated Becard, Snow-capped Manakin, Pompadour Cotinga and Tooth-billed Wren. Between the food, the amiable service, and the beautiful natural spring-fed swimming pool, this is a great place for a non-birding spouse or a family to spend a few days.
Vila Bela da Santíssima Trindade
Well off the beaten track, but an excellent birding area located 520 km west of Cuiabá on good roads. The main draw to the area are the seedeater flocks found in the degraded cerrado right around the town of Vila Bela which contain Dark-throated, Rufous-rumped, Tawny-bellied, and the endangered Black-and-tawny Seedeater. Vila Bela is an intriguing birding destination due to its location at the crossroads between the Cerrado, the Amazon, and the Pantanal. The avifauna possesses elements of all three biomes thereof, making for an interesting mix of target species that includes Horned Sungem, Checkered Woodpecker, Double-collared Crescentchest, Bolivian Slaty-Antshrike, Sulphur-bellied Tyrant-Manakin, Rondonia Warbling-Antbird. Day trips toward the Bolivian border target the endangered Great-billed Seed-Finch and the range restricted Green-cheeked Parakeet.
The Best of Brazil's Amazon Lodges
From Cuiabá it is just a short one-hour flight to the town of Alta Floresta, gateway to the best birding lodges in the Brazilian Amazon. See our Brazil's Best Amazon Lodges itinerary for more details…